by Joe Hoover.
This isn't a Night Hawk specific story but it is related. In June timeframe, Alpha Troop 3/17th moved to Lai Khe and occupied the flight line at the south end of the compound and just off to the east of the active. If I remember correctly, they were only there for about three months. My timeline of when they moved in may be a little off.
On July 28, 1971 at Lai Khe, Alpha Troop 3/17 Air Cav fell victim to a sapper attack. (The press reported: "Enemy demolition men blow up four U.S. helicopters and damaged a fifth.") NOTE: No Centaur (F Troop 4th CAV) aircraft were attacked or damaged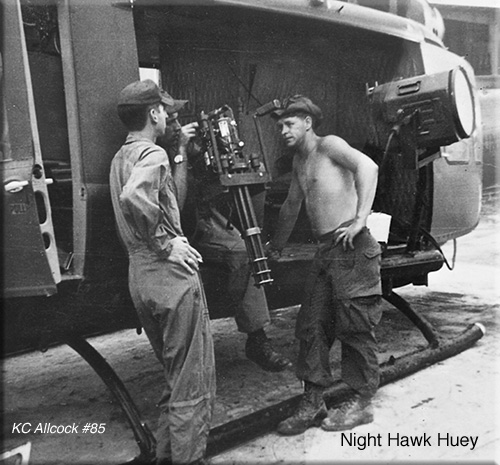 Of course, this occurred in the middle of the night. The Nighthawk did not have a mission that night but as usual was on stand-by so we had all the equipment installed.
Being awoken by the explosions of the aircraft blowing up, Captain Dennis Yenser, myself, my gunner Terry Smith (Smitty), Bud Wyatt, Ken Hutchings were all sprinting to the flight line where 448 was parked. CPT Yenser, Smitty and I arrived at the same time. I was carrying my flight gear and was "mostly" dressed. Boots not tied, one arm in my nomex shirt. Smitty untied the aircraft and CPT Yenser and I were doing a quick check of the aircraft for any satchel charges or delayed booby traps. With a flashlight, I was looking under the aircraft, opening compartments quickly, checking the fuel cell via the refueling port, etc. CPT Yenser was gently opening the step doors with his finger and feeling for trip wires before looking through the opening. (I hadn't thought of that). But we were ready pretty quickly and by then Bud, Ken and the copilot (don't remember copilot's name) had arrived and the weapons (mini gun on the left, 50 CAL on the right, with a 60 back up on each side) were armed. We had a Xenon light on each side as well. We took off and with gun ship cover circled the airfield and the village perimeters for about an hour and a half. When we needed to stop and refuel it was almost daybreak, CPT Yenser and the TOC decided that we were not going to locate any sappers. We did not make contact with any VC or sappers.
After shutting down and post flight, we went to the mess hall for coffee. It was too early for breakfast but we were all wide awake. The humorous thing is, I asked CPT Yenser what he was thinking while he was carefully running his finger around the inside of the airframe step covers and the engine cowling step covers. He started laughing and said: "I was thinking, if I see a bright flash-duck!". Remember, we were inside an L-shape revetment with an aircraft full of fuel and about 5000 rounds of ammunition. Not to mention a few grenades as well. To this day, I can still hear CPT Yenser laughing as he said that.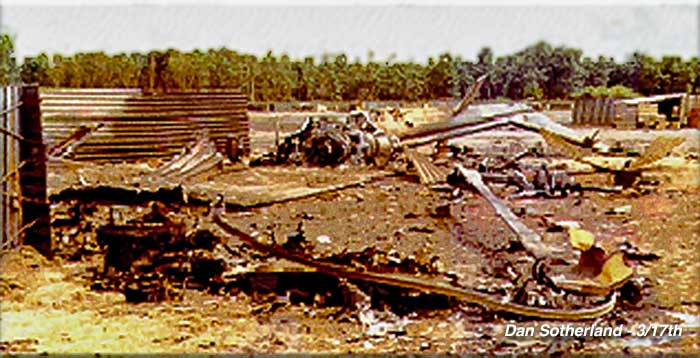 Four helicopters were destroyed on the ground by sappers at Lai Khe
From the Dan Sutherland Collection and the A Troop-Silver Spurs website