In the early days of the Huey, they were not sure how effective it would be to add another man to the combat crew, or how to train him.
Several Centaurs volunteered for this experimental training, which included training on actual combat missions.
This was the Dawn of the "Door Gunner" - Herbert Beasley
………………………………………………………………………………………………………………………………………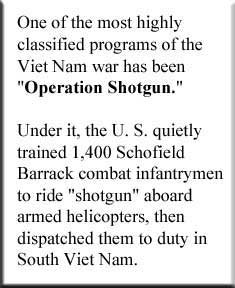 Background: Early aviation units (Transportation Companies) had no organic door gunners authorized by TO&E. Instead, door gunners were volunteers, doubling from their regular duties from aircraft crew men, motor pools, mess halls and anywhere else they could be found. Occasionally, a man from another unit in the area (MP's) would "volunteer" to ride as a door gunner to help out.
Then, a really far-out plan was "hatched" in 1962. MACV requested combat-trained men to take over the job of door gunners to man automatic weapons to protect the helicopters on operational missions. The plan was for the 25th Infantry Division in Hawaii to train and send gunners from Hawaii for short periods of time, usually approximately 90 days. This program was called Provisional Machine Gun Platoons, or "Shot Gun Platoons" for short. By late 1965, when the 25th Division fully deployed to Vietham, more than 2,000 officer and men from the "Tropic Lightning" Division had completed the training and gone TDY to Vietnam.
From its inception, the Shotgun program was entirely volunteers. Each "Shotgunner" had to pass a Class III flight physical examination in which vision, color blindness, hearing and other physical conditions were checked. Training was primarily with the M-60 machine gun, but the volunteers also were expert with the .50 caliber machine gun, M79 grenade launcher, .45 caliber pistol, M3 machine gun, the .30 caliber M2 carbine and the M16 rifle and M14, complete with bayonet.
In training, while in Hawaii, the platoons first were introduced to helicopter flight from a mock-up. They were oriented to the various gun mounts and also in free firing with the "Bungee cord." Additional training also included techniques of aerial observation and firing at various altitudes, plus how to respond with instantaneous but planned reactions. Accuracy was constantly emphasized, especially in the descent to a landing zone phase. Reports from men returning from Vietnam provided experience which honed their training through out the time period of the "Shotgun Platoons." re: http://www.118ahc.org/shot%20gun%20platoon.htm
US Army Archive movie of the program
..........................................................................................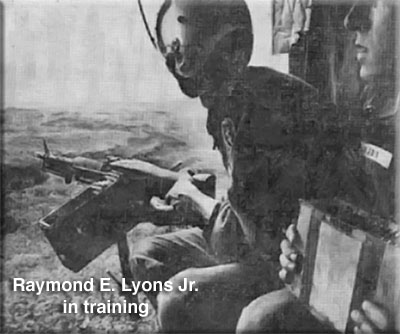 Herb Beasley: In April 1965, enroute to D Troop 3/4 Cav, I volunteered for "Operation Shotgun" a highly classified program to train door gunners for service in Vietnam. After 3 weeks of training, twenty six 4th Cav Troopers were on our way to join A/501st Avn. Bn., Bien Hoa, Vietnam for the combat training phase.
On June 10th 1965 we flew our first Combat Mission. In Phuoc Long Province, the Dong Xoai Special Forces Camp had been overrun by VC and NVA forces. Our cherries were broken. A day I will never forget. On September 7, we returned to Hawaii.
I was in the Shotgun 10 group (10 of 11 groups trained). Below is an article from the Honolulu Advertizer Newspaper May 1965, about our group. Ray Lyons, who later served with D Troop, is the gunner in the photo: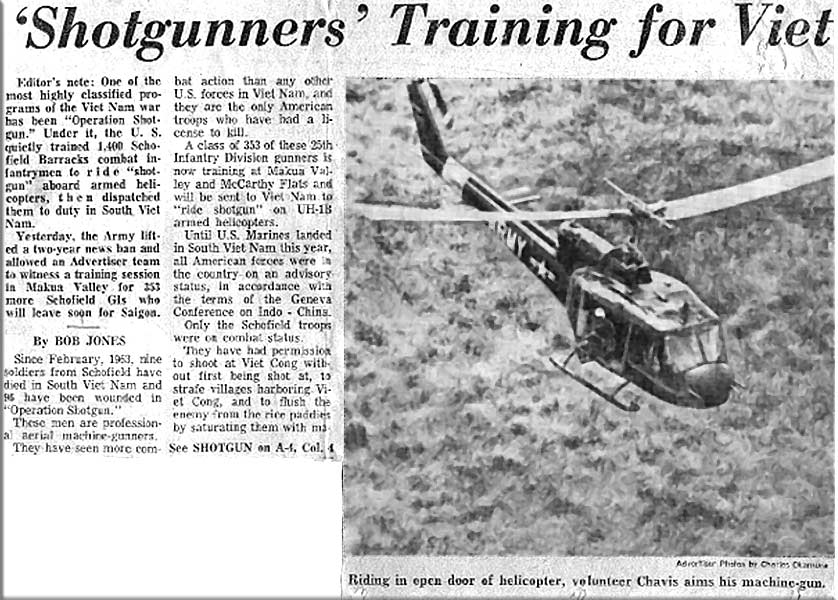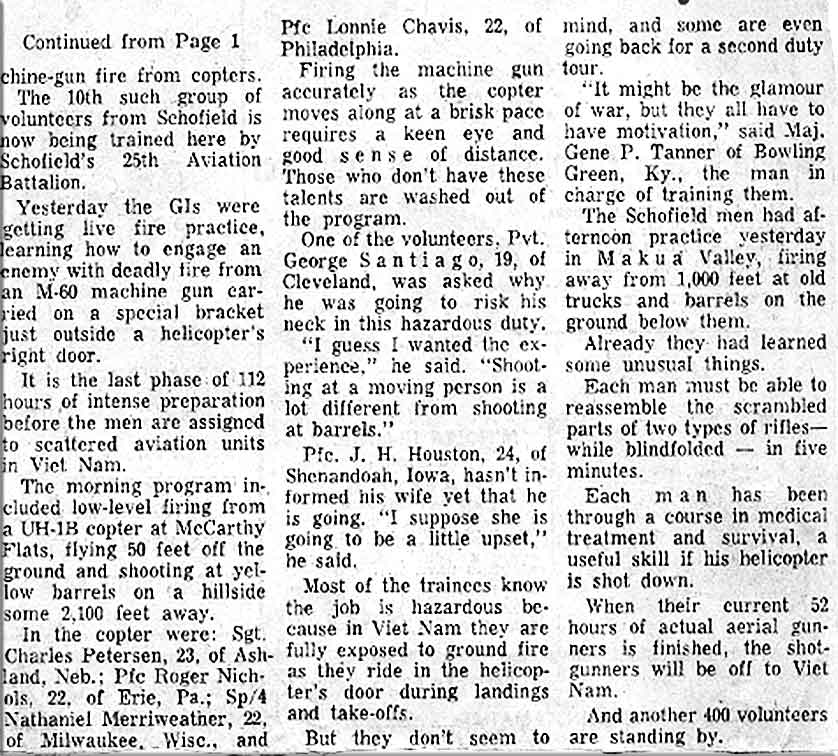 ...............................................................