The Centaurs from Troop D (Air), 3d Sqdn, 4th Cav and Troop F (Air), 4th Cav will be gathering for their 14th annual Veterans Day Reunion
9 - 12 November 2017. We are inviting anyone who served as a Centaur or with the 3/4 Cav to join us in Grove, OK to honor our lost friends and to renew old friendships. The host for this year's get together is
Jerry Brownfield from B Troop (69 - 70).
The reunion site will be the Cherokee Queen Motel and Restaurant:
61991 East 315 Road, Grove, OK.
The room rate will be $65.00 plus tax & includes a continental breakfast.
A block of 15 to 20 rooms, preferably downstairs, have set aside for the nights of 9 - 11 November; so plan on arriving on Thursday, 9 Nov, and departing on Sunday, 12 Nov. There is one handicapped room available.
You can reserve a room by calling 918-786-7755.
The motel email address is: cherokeequeenmotel@yahoo.com.
The motel website is at http://www.cherokeequeenmotel.com.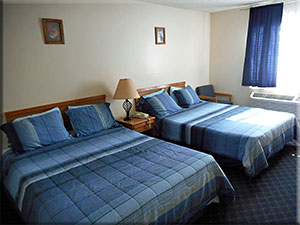 Tell them it is for the D/F Troops 4th Cavalry and you will get the special price. The standard rooms include 2 Queen beds or King bed with a sleeper couch. Most of the rooms will be on the first floor and one handicap accessible room will be available.
Make your hotel reservations before 1 November. Let them know if you need a handicap room!!
Get your room reservations made early to obtain a room at the Cherokee Motel. A back up motel will be available for the overflow if needed.
If you are planning on attending, contact Jerry at the email address or phone number below so that he can make sure that we have the correct number of rooms available.
He needs your name, guest's name, date of arrival and departure, troop assigned to, and dates with the troop so that a roster of attendees can be made up. He also needs to know if you will be joining the group for dinner on Friday and Saturday evenings and your choice of meals.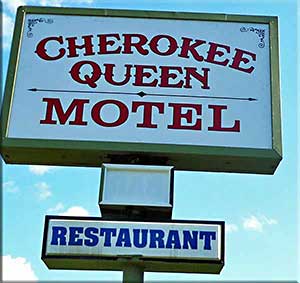 Group dinners are planned for Friday and Saturday evening at the
motel restaurant.
...Friday's dinner @6:00 PM.....
Grilled Chicken Breast of Chicken Schnitzel
Catfish
String Beans w/Onions & Bacon Bits
Mash Potatoes
Salad w/Ranch & Honey Mustard Dressing
For Desert: Asst Bake Goods
...Saturday Dinner.....
Baby Back Ribs
Brisket
Mashed Potatoes
Baked Beans
Spring Vegetables
Salad
Carrot & Choc Cake
The cost of the meals will be $20.00 per night (Tax Included) and will be collected when you book your room with the motel. Just tell them that you want the D/F Veterans Day Rate and if you want to eat the meal on Friday and Saturday night. Room rate for 3 nights will be $195.00 with another $40.00 each if you want to have both meals. They will have a continental breakfast each morning at no charge.
They will need a head count no later than October 25th so they can buy enough food to prepare the meals for our group.
Jerry is still working on the activities. Since Veterans Day falls on a Saturday, most of the Veterans Day activities will probably be held on Friday.
Jerry has talked with some friends from the Department of Natural
Resources and they have volunteered to give any interested fishermen a guided trip on Saturday, so if you fish, bring your fishing gear with you. He is also working on setting up some activities for the wives and
non-fishermen.
Contact Jerry at: -------nrthrnpik@msn.com--------
or call Carla or Jerry at 515-779-1867