by Carl William Burns (see award)
.....................................................................................................................................................................................

We waited, anxiously. We were the beginning of the Hangar Crew. Where is she?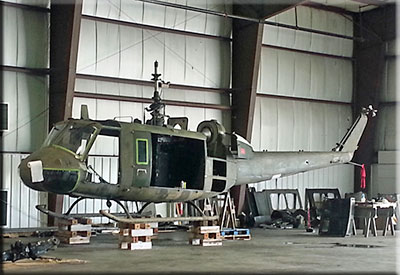 The N.J. National Guard called. "We are turning on to Hurley Pond Road". We raced out to meet her, UH-1D 64-13732.
We Vietnam vets gathered around in quiet awe. Ken and I, Huey pilots in Nam, hugged and cried.
Our job? We would turn this rusted hunk of metal, broken windshields, and missing parts into a restored icon. She was flown by the Hornets at Cu Chi. Appropriately, after twenty years in a Fort Dix field she was delivered with dozens of hornet nests. She would be proudly mounted at the New Jersey Vietnam Memorial.
Something was happening to us; a deep feeling, beyond brotherhood and bonding. What was it? There must be a word.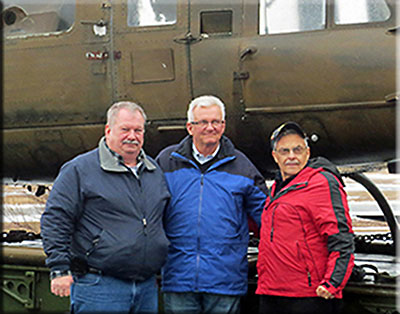 We gathered every Monday morning for fourteen months. Our leaders emerged. Guys seemed to know how to get involved.
Bob, Bill and Gary became the chief mechanics. Ken, nicknamed our Head Rusty Nut, made coffee and efficiently supervised. Frank became the scheduler. Cappy enlisted his daughter Kelly (Picassa) to be our head painter. Eli, Mike and Mike, Jim and Jim, John, Tom, Dan, Ralph, Pat and Dick all chipped in. I with my clipboard and camera and Doc with his broom went about doing our thing. Iraqi vet Craig and Afghan vet Billy the Kid joined up.
We ordered "Huey Restoration Crew" t-shirts.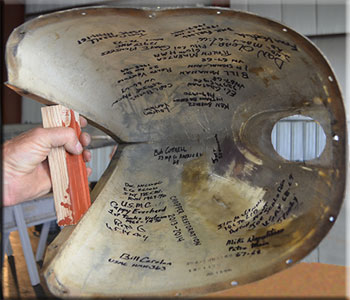 We all signed the inside of the tail cone
Lunch at Mulligan`s became a routine, with laughs, hugs, insults, and pats on the back.
Needed parts magically showed up. No contractor or supplier said no to our requests. Strangers stopped at the hangar.
Our project was almost finished. We shared mixed emotions of pride in a job well done and some sorrow that the job was done.
On May 7, 2014 our Huey was dedicated at the New Jersey Vietnam Memorial. She was awesome on her mounting before more than a thousand people.
And then, the surprise: whirr, whirr, whop, whop, whop, whine, whop, whop, whop. Yup, it was our Huey with recorded sound. Cheers, tears, hugs, and joy among vets, families and friends.
Oh yeah, the word, it`s CAMARADERIE: trust, solidarity, love, close friendship, amity, peaceful harmony. We have one another and for three hours every Monday nothing else seems to matter.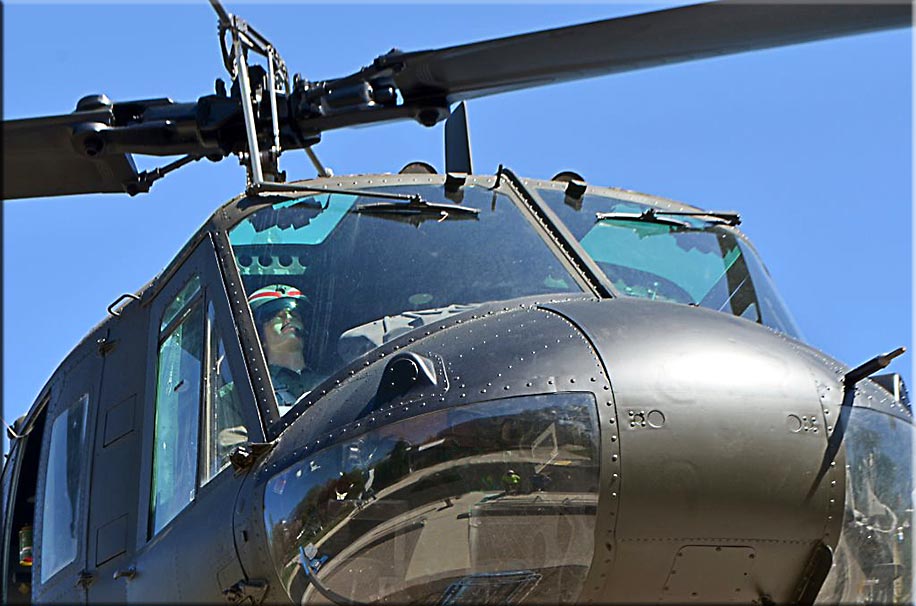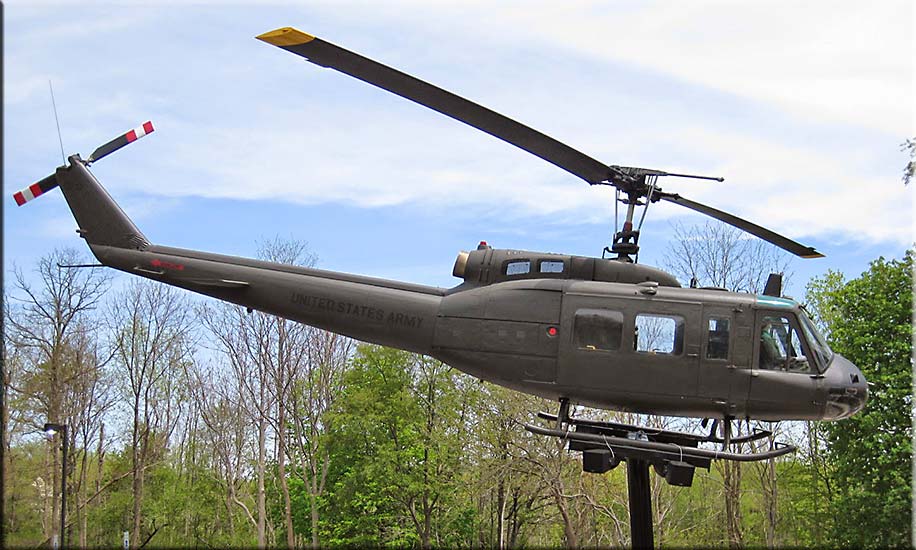 Peace my Brothers,
Captain Clipboard February 5, 2015
.......................................................................................................
Vietnam Veteran Wins Local Phase of National Writing Competition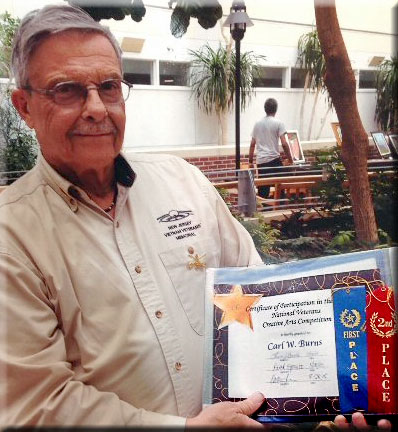 Carl Burns won first place with essay, "Hangar Crew,"
Written by NJ Vietnam Veterans' Memorial Foundation
23 June 2015 - Holmdel, N.J. — Carl Burns, a Vietnam veteran residing in Manalapan, N.J. won first place in the New Jersey Veterans Administration local phase of the National Veterans Creative Arts Competition.
His essay, "Hangar Crew," tells the story of a group of veterans who came together to restore a Bell-UH-1D helicopter ("Huey"), left in a field in New Jersey for 20 years, forgotten by time. The essay has moved on to the national portion of the competition. The winner will be announced at the end of June.
"I wrote this for the guys, it's not for me," said Carl. "That's what makes it so special."
Carl tells the unlikely story of the restoration of the helicopter, a "hunk of metal with broken windshields and missing parts." The Huey eventually found a home, mounted and displayed at the New Jersey Vietnam Veterans' Memorial in Holmdel.
For 14 months, a group of veterans from Vietnam and Afghanistan, along with the occasional visit from grandsons, daughters and others, met each Monday, painstakingly and lovingly restoring the once forgotten piece of machinery that was such an important part of Carl's life story.
"Once we got the helicopter, we never got a 'no' from anyone," said Carl. "Needed parts magically showed up. No contractor or supplier said no to our requests."
"Vietnam was full of the good, the bad and the ugly," said Carl. "This is nothing but the good."
Carl is no stranger to writing. "Centaurs in Vietnam: Untold Stories of the First Year," was published in 2008 and is full of tales from Carl's first year in Vietnam as an air cavalry helicopter pilot and the troop based at Cu Chi.
The Huey became the symbol of U.S. combat forces in Vietnam. In country, more than 12,000 helicopters served alongside our troops. The 7,000 Hueys that served flew 9,713,762 hours. At home, millions watched them fly on nightly news reports. The Huey is an iconic image of the Vietnam Era and a fitting display at the Vietnam Era Museum & Educational Center.
The restored Huey was dedicated on May 7, 2014, the helicopter's 50th birthday. It is a fitting tribute to all who have served our country, as well as a unique and historically important teaching tool for the thousands of students and visitors who experience the Memorial and Museum each year.
Interested in seeing the newly-restored Huey? Visit at the New Jersey Vietnam Veterans' Memorial and Museum on the grounds of the PNC Bank Arts Center in Holmdel, New Jersey. Free, guided tours of the memorial are offered the first Saturday of each month at 11 a.m. and 1 p.m. Tours are also available by request. Visit www.njvvmf.org for more information.
For a $350 donation, a personal message can be engraved on one of the pavers within the Plaza. Each personal message is a maximum of 3 lines with 14 characters per line. Proceeds from paver sales support programming at the New Jersey Vietnam Veterans' Memorial and Vietnam Era Museum & Educational Center. For more information, call (732) 335-0033.
About New Jersey Vietnam Veterans' Memorial Foundation
The New Jersey Vietnam Veterans' Memorial Foundation offers a meaningful and engaging experience that recognizes the sacrifice, courage and valor of Vietnam Veterans and encourages and fosters a thorough understanding of the Vietnam Era including the political, historical, social, cultural and military aspects, which affected the United States, and especially New Jersey.
The Foundation operates and manages the New Jersey Vietnam Veterans' Memorial and the adjacent Vietnam Era Museum & Educational Center located at 1 Memorial Lane off Exit 116 (PNC Bank Arts Center) in Holmdel, NJ. The Memorial honors all those who served our country and state during the Vietnam War, especially the 1,563 New Jerseyans who did not return home. It is a powerful and fitting tribute to their sacrifice. The Memorial is open 24 hours, seven days a week. The Vietnam Era Museum & Educational Center is the first educational center and museum of its kind in the United States. Dedicated in September 1998, the Museum is devoted solely to gaining an understanding of the conflict in Southeast Asia and the surrounding political strife in America. For hours and directions, visit www.njvvmf.org.