A "Shotgun" trained Door Gunner's experiences and memories of Mac Meece.

I wish this was a "Once Upon A Time" story, but it's not. It's no "Fairy Tale," and has no happy ending. If anything it should teach us to learn from our mistakes. Every story needs a beginning and end. My beginning started when I arrived in Hawaii in March of 1965.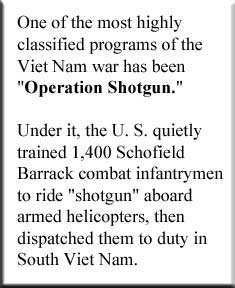 I was assign to D Troop 3rd Squadron 4th Cavalry (Mar 1965). This would be my new home for the next 31 months. In April (1965) I volunteered for Shotgun X. After weeks of training twenty- six 3rd Squadron 4th Cavalry troopers were ready for Vietnam. In June we boarded a C-118 for Bien Hoa, Vietnam assigned to the A/501st Aviation Battalion. Only twenty-five of us returned in September.
On 2 July 1965 door gunner PFC Charles Godwin flying on a gun ship was hit in the upper left leg, bursting a artery. He was taken to 3rd Army Hospital in Saigon and later med-evacuate to the states where he was expected to fully recover.
On 10 June 1965 in Phuoc Long Province, the Dong Xoai Special Forces camp approximately 55 miles Northwest of Saigon was under attack by a large VC force. This was our Virgin combat assault mission. When we landed in the LZ which was a large soccer field the VC were waiting for us in spider holes dug in the LZ. The ARVN soldiers were being killed as they were leaving our ships. Still to this day I don't know how we made it out. Around June 14th we flew back to recover some of the ARVN soldiers who had been killed and fly them back to Bien Hoa. Most had been dead over three days laying in the hot sun of VN. Bodies were swollen to the extent that their fatigues looked as if they were painted on. Some with limbs missing, pieces of skull gone, and bodies that were riddled with bullets. They were brought to us on stretchers and we tried to unload them with as much respect as possible. Each helicopter carried 5 KIA'S. The smell was horrid! The smell; you never forget the smell. Back at Bien Hoa the air field was littered with dead ARVN soldiers. When it was all over sources reported 1,190 ARVN killed and wounded, 35 US killed and wounded, and some 700 plus VC killed. By June 20th, we were seasoned door gunners.
I often wondered if SP4 Mac Meece had some of these same experiences and what had he seen on his shotgun tour. I did know that he had been wounded and received a Purple Heart from his shotgun tour.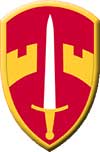 I was a Team Leader in the Aero Rifle Platoon. Having prior experience as a door gunner I flew once in a while doing double duty. In late April of 1966, 1st SGT Petty asked me if I wanted to transfer and fly all the time. There was one stipulation, I had to remove my acting E5 SGT stripes and return to being a SP4. He also said that I probably would stay a E4 for the rest of my tour. For me the choice was easy, I loved flying. So on April 27th, I moved to hooch #29. You could spot a shotgun door gunner by the MACV patch on his right shoulder. A symbol of his prior service in Vietnam.
I don't know when Mac transferred into D Troop. I only knew Mac for a few days. What I remember is he was a little quiet but mainly just a average guy like every one else. It was a somber day when two soldiers came into hooch #29. I can't remember if they were from D Troop or some other unit. They wanted to know where Mac's bunk and locker was located. Someone pointed and said, "It's over there." They packed everything up and left without saying a word. I believe at that point we realized Mac was gone and never coming back. We sat there with emptiness all around us. You could hear a pin drop.
SP4 Mac Meece death on 5 May 1966 brought me back to that flight in June on that C-118. I had a little 3x5 spiral note book that I had planned to keep a diary of my TDY tour. I still have it today. Flying from Wake Island to Guam I wrote, "Something about what some of the men are doing on the plane." "Some are reading, lounging around, sleeping, and a few are playing cards." "I wonder what's going through the minds of some of them." "Maybe they are thinking of how they are going to feel after they kill someone for the first time?" "What their reactions are going to be in this very real combat situation." "Maybe they are wondering." "Am I going to be killed?" "It's something we all think about but hope and pray that it never will happen." I wondered if Mac had these thoughts? Mac having been in country before as many of us were. I fully believe Mac and the rest of us in D Troop knew death was possible. We didn't dwell on it. We were soldiers sent to do a job and we all did that job to the fullest extent of our ability and without hesitation. Some paid the ultimate price.
My mother had saved all the letters I had written to her while I was in the Army. In the letter dated, May 8th,1966 (Mothers Day) I wrote. "Around three days ago one of our door gunners was killed." "He sure did seem to be a nice kid." "He only had 130 days left in the Army to." "Don't let me scare you but it was just his time to go, that's all." I believe this was my way of dealing with his death. That was the last time I wrote home with any details about what was going on in Vietnam. Also June 10, 1965 was the last time I wrote in that little 3x5 spiral notebook.
We have many firsts in our life time. First car, date, girl friend, kiss, our virginity, and our first home. During that first year, SP4 Mac Meece was D Troops first KIA on May 5th, 1966. During my tour four more would follow:
SGT James R. Pearson - November 4, 1966
CPL James P. Spencer - January 24, 1967
SP4 Ervin L. Laird - February 4, 1967
Larry P. Blackman - February 17, 1967Shot
During the Vietnam War over 2,200 pilots and 2,700 crew members were killed. The Vietnam Veterans Memorial (The Wall) in Washington D.C. list more than 58,282 killed during the Vietnam War.
WE WILL NOT FORGET!!!
©2013 SP4 Herbert D. Beasley
...........................................................................................................................................
Background on Shotgun Program: In 1962, MACV requested combat-trained men to take over the job of door gunners to man automatic weapons to protect the helicopters on operational missions. The plan was for the 25th Infantry Division in Hawaii to train and send gunners from Hawaii for short periods of time, usually approximately 90 days. This program was called Provisional Machine Gun Platoons, or "Shot Gun Platoons" for short. By late 1965, when the 25th Division fully deployed to Vietham, more than 2,000 officer and men from the "Tropic Lightning" Division had completed the training and gone TDY to Vietnam. Approximately 13 men gave their lives and more than 100 were wounded in "Shot Gun Platoons" by late 1965. In all for "Shot-Gun" One, the first group was made of approx. 106 men.

From its inception, the Shotgun program was entirely volunteers. Each "Shotgunner" had to pass a Class III flight physical examination in which vision, color blindness, hearing and other physical conditions were checked. Training was primarily with the M-60 machine gun, but the volunteers also were expert with the .50 caliber machine gun, M79 grenade launcher, .45 caliber pistol, M3 machine gun, the .30 caliber M2 carbine and the M16 rifle and M14, complete with bayonet.

In training, while in Hawaii, the platoons first were introduced to helicopter flight from a mock-up. They were oriented to the various gun mounts and also in free firing with the "Bungee cord." Additional training also included techniques of aerial observation and firing at various altitudes, plus how to respond with instantaneous but planned reactions. Accuracy was constantly emphasized, especially in the descent to a landing zone phase. Reports from men returning from Vietnam provided experience which honed their training through out the time period of the "Shotgun Platoons."

True to military form, there was a number of different designations and changes to the original concept, but overall it remained the same for several years, only the name of the unit changing. The plan worked and can be considered a success. - Reference