Info Sheet/Bio - Ray Kenneth Clark
his book "Just Let Me Walk Away"
………………………………………………………………………………………………………
Finishing high school in Oklahoma at 16, Ray Clark completed a semester of college at Oklahoma State University before enlisting in the Army to be a paratrooper.
He married, became the father of three, finished college in the army, became a Regular Army officer, attended Ranger School, Jungle Warfare School, the army's rotary wing and fixed wing flight schools and other training programs.
He served two one-year tours in Vietnam flying helicopters and leading troops.
At the rank of captain, he was a student at the US Army Command and General Staff College at Fort Leavenworth, Kansas when he resigned from the Army in 1973.
Mr Clark became a commodity broker and stock broker in Atlanta, Georgia where he resided before relocating to Nashville, Tennessee in 1987. Continuing to advise traders he started his own trading business in 2000. He retired that business in 2011 to finish his recently published book about flying helicopters in Vietnam, Just Let Me Walk Away.
Single, Mr Clark resides in Nashville where he dances ballroom and plays golf. A prolific writer of poetry, he is writing his next book, 'Things I Know, or Think I Do.'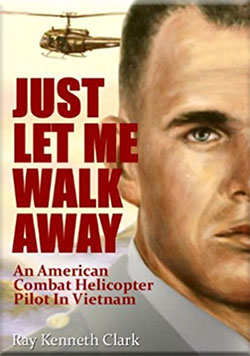 Ray's Book "Just Let Me Walk Away"
In 1966 a young Army lieutenant from small-town Oklahoma set foot in the Central Highlands of Vietnam as a raw, inexperienced Huey pilot. Ray Clark would serve two harrowing tours in Vietnam, developing his piloting skills in combat. Clark has written an engrossing, poignant, and often humorous account of America's combat helicopter pilots and crew members: their adventures, triumphs and tragedies as they fought in a war like no other in America's history. A natural and masterful storyteller, Clark shares a personal memoir of war that Americans should heed carefully. Just Let Me Walk Away is a chronicle of a defining point in U.S. history, a tale of an unpopular war and the soldiers charged to fight it. This riveting, personal story is written with passion, dignity, and a commitment to truth. A day in the life of these American veterans is a story largely untold, an uncelebrated truth that Clark is compelled to reveal.