Aero-Rifies Extract Cache Found By LRP - Dec 68

Vol 3 - No 52 - 23 Dec 1968
Story and Photos by SP4 Jerell Jarvis

CU CHI - From out of a hedgerow, a smoke grenade was tossed into a clearing no bigger than a football field.
Off in the distance the thumping of approaching rotor blades could be heard. Within moments four slicks dropped into the LZ and discharged their human cargo.
The highly mobile Aero-Rifle platoon of Delta Troop, 3d Squadron, 4th Cavalry, was on a mission in the famous Mushroom area. Their objective - a rice cache that was spotted six miles north of Cu Chi on the banks of the Saigon River.
The cache was discovered by a long range patrol team (LRP) of the 50th Infantry. Staff Sergeant David H. Ridell of Lincoln Park, Mich., team leader, radioed the information back to the 3/4 Cav Headquarters.
The fast-moving Aero-Rifle Platoon, led by First Lieutenant Joe Owen, was dispatched to the area with two cargo nets and other sling-loading equipment.
The Aero-Rifle Platoon and the LRP made a joint sweep of the area near the first find. Within 45 minutes, five tons of rice hidden under bushes had been uncovered.
An hour and 45 minutes after their arrival, the men had loaded both nets to capacity with 7,500 pounds of rice. The remaining 2,700 pounds had to be dumped into the river.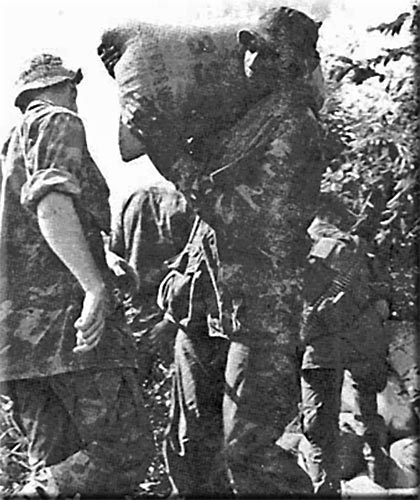 TOTE - Specialist 4 Ernest W. Johnson of DeRedder, La., carries away part of the rice discovered by the 50th Infantry long range patrol team in the mushroom area. SP4 Ernest W. Johnson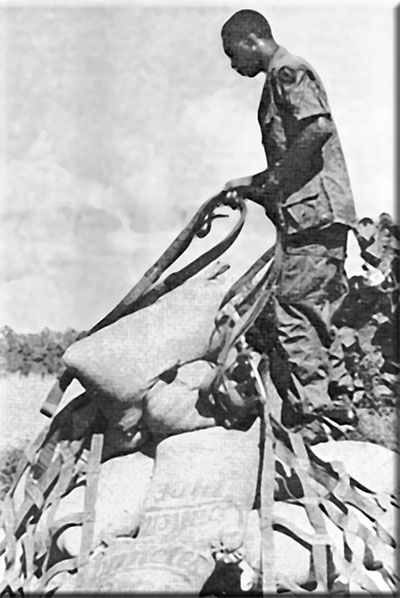 SSG Harold Brown RICE - Staff Sergeant Harold Brown of Richmond, Va., loads cargo nets with rice bags for shipment back to Cu Chi base camp. The removal of the five-ton cache was undertaken by men of the 3d Squadron, 4th Cavalry.

Chinook Lifts Off
LIFT OFF - A Chinook lifts two cargo nets of rice back to Cu Chi base camp. The cache was discovered by long range patrol teams of the 50th Infantry.